Career & College Exploration Resources
Whether graduating seniors choose to go into the workforce or pursue a post-secondary degree, our high schools are dedicated to providing tools, resources, and experiences to inform about each student's path. Your support enables them to make real-world connections via field trips to local businesses, applying what they see firsthand to their classroom learning. Our foundation has also supported in part Naviance, a district resource that helps students align their strengths and interests to post-secondary goals, improve their short- and long-term academic outcomes, and connect learning to life.
School-Owned Music Instrument Program
Music education has long been a source of pride and active participation across Mounds View Public Schools. From being exposed to band and orchestra fundamentals in elementary schools, all the way up to performing challenging pieces in high schools, students involved in music form a special community. Working in partnership with the district, our foundation supports increasing access to school-owned instruments, making band and orchestra accessible to all families and students who want to participate in the music program.
STEAM Materials & Classroom Technologies
We invest in STEAM (science, technology, engineering, the arts and mathematics) equipment and resources that inspire students and enhance instruction, enriching the experience of students at all educational levels through new 3D printers, vinyl cutters, laser cutters, embroidery machines, tablet devices, and interactive flat screen displays in the classroom.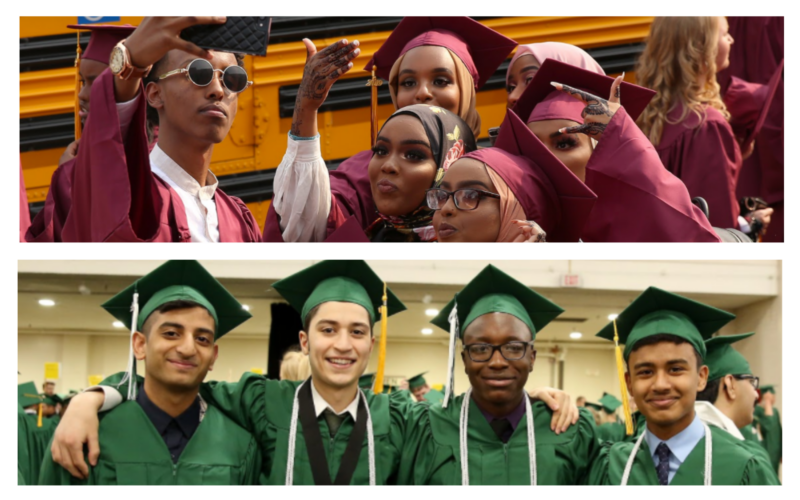 Equity Promise Scholarship Program
Each spring, the district awards Equity Promise Scholarships to seniors from Irondale High School, Mounds View High School and the Area Learning Center (ALC), recognizing a broad range of students who have demonstrated success and perseverance in their high school journeys. Funded in part by our foundation, Mounds View Public Schools awarded 140 scholarships to students in 2023, totaling more than $166,000.
Family Community Building Events
Our schools strive to connect with parents and families as part of the educational experience. Finding ways to engage busy families can be a challenge, but one effective strategy has been involving them through hosting a meal at an evening school event. This has engaged higher percentages of traditionally underrepresented families, especially when they are able to attend with their children. Your support will help our schools make connections, share information, and build community across all students, parents, and families.